Just how feasible is a pet translator?
A report from a futurologist is claiming that we're only ten years away from having deep and meaningfuls with our puppers and kittehs. But there might be some technical hurdles — including the possibility that there's nothing going on to translate.
Daniel, Kylie, and Ben think it over on this episode of Talk the Talk.
---
Listen to this episode
Download this episode
Listen on our Patreon page
Subscribe via iTunes
Subscribe on Android
Click here for more options: How to listen to Talk the Talk
---
Promo with Simon Beaton
---
Patreon extras for this episode
Episode 308: Pet Translator for everyone
Video episode 308: Pet Translator coming soon
Cutting Room Floor 308: Pet Translator coming soon
---
Patreon supporters
We're very grateful for the support from our burgeoning community of patrons, including
Jerry
Anthony
Christopher
Beks
Chris
Christian
Damien
Erica
Erin
Kailyn
Kerstin of the Creative Language Learning Podcast
Mathias
Oleksandr
Sam
Abraham
Christy
Iain
kat
Matt
Whitney
and the podcast Lingthusiasm.
You're helping us to keep the talk happening!
Become a Patreon supporter yourself and get access to bonus audio and video, extra blog posts, Talk the Talk merch, our infamous Cutting Room Floor posts, and more!
Show notes
Court rules request for 'lawyer dog' too 'ambiguous'
http://thehill.com/regulation/court-battles/357817-court-rules-request-for-lawyer-dog-too-ambiguous
How the English language has evolved like a living creature
http://www.sciencemag.org/news/2017/11/how-english-language-has-evolved-living-creature
Resistance to changes in grammar is futile, say researchers
https://www.theguardian.com/science/2017/nov/01/resistance-to-changes-in-grammar-is-futile-say-researchers
Hear, boy? Pet translators will be on sale soon, Amazon says
https://www.theguardian.com/lifeandstyle/2017/jul/22/hear-boy-pet-translators-will-be-on-sale-soon-amazon-says
The Catterbox collar will translate your cat's meows into human speech
https://www.indy100.com/article/the-catterbox-collar-will-translate-your-cats-meows-into-human-speech–bkxNx34yZMb
Scientists Document Wild Birds 'Talking' With Humans For The First Time
http://www.sciencealert.com/scientists-document-wild-birds-communicating-with-african-tribespeople-to-help-them-find-honey
Elephant translator turns human language into pachyderm-talk
https://www.cnet.com/au/news/elephant-translator-hello-in-elephant-david-sheldrick-wildlife-trust/
Ad running in Australia, where Heinz has sold both #tomatosauce and #ketchup. When I ask the difference, people mention thickness. pic.twitter.com/Lj0WmB2sbL

— Talk the Talk (@talkrtr) 2 November 2017
Heinz pits tomato sauce against ketchup in a new challenge
https://mumbrella.com.au/heinz-pits-sauce-ketchup-new-challenge-471214
What's the Difference Between Ketchup and Catsup?
http://mentalfloss.com/article/29649/whats-difference-between-ketchup-and-catsup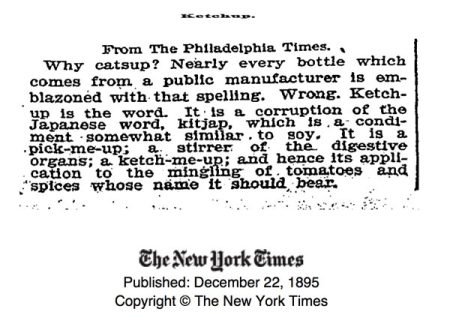 Condiment shake-up as Heinz plays ketchup
http://www.news.com.au/finance/condiment-shake-up-as-heinz-plays-ketchup/news-story/a24532be3e963785de90eca5755e0d45
---
Show tunes
Find the tracks we play on the RTRFM webpage for this episode.
Image credit: http://i0.kym-cdn.com/photos/images/facebook/000/217/040/48ACD.png