The Talk the Talk team takes the stage in a special live episode at the Disrupted Festival.
The Yawuru language of Western Australia has been going dormant, but many courageous teachers are bringing it back for a new generation. Is it working? What is it to learn and teach one's traditional language? And what is the Yawuru language like?
Daniel, Ben, and Kylie are joined by our special guest Dalisa Pigram on this episode of Talk the Talk.
---
Listen to this episode
Download this episode
Listen on our Patreon page
Subscribe via iTunes
Subscribe on Android
Click here for more options: How to listen to Talk the Talk
---
Patreon supporters
We  have a lot of great patrons! Some of them were in the audience for this episode, and we really enjoyed meeting up.
Anthony
Christopher
David W
Beks
Christian
Chris
Damien
Erin
Mathias
Oleksandr
Abraham
Christy
Kat
Matt
Whitney
and the podcast Lingthusiasm.
Thanks to all our patrons for your support. You keep us going.
Become a Patreon supporter yourself and get access to bonus audio, extra blog posts, Talk the Talk merch, our infamous Cutting Room Floor posts, and more!
Patreon extras for this episode
Episode 295: Yawuru (featuring Dalisa Pigram)
Video episode 295: Yawuru patrons only
---
Show notes
i before e except after…w?
http://www.nathancunn.com/2017-06-26-i-before-e-except-after-w/
A Student Just Debunked the Most Famous Grammar Rule of All Time
http://www.rd.com/culture/i-before-e-rule/
AI Is Inventing Languages Humans Can't Understand. Should We Stop It?
https://www.fastcodesign.com/90132632/ai-is-inventing-its-own-perfect-languages-should-we-let-it
Researchers shut down AI that invented its own language
http://www.digitaljournal.com/tech-and-science/technology/a-step-closer-to-skynet-ai-invents-a-language-humans-can-t-read/article/498142
The best thing on Wikipedia is this 99% fake list of slang terms for Australian currencyhttps://t.co/jpq69owPGL pic.twitter.com/iqh1cgpLsG

— Michael McMaster (@mjmcmaster) 19 July 2017
"The Most Worthy Rectangle": Wikipedia Deletes Amazing List Of Fake Aussie Slang For $100 Note
http://junkee.com/wikipedia-list-slang-100-note/114214
Oxford Dictionary has a new last word
https://www.irishtimes.com/culture/books/oxford-dictionary-has-a-new-last-word-1.3136466
Just what does the gun emoji most commonly shoot at?
http://www.guns.com/2017/06/20/just-what-does-the-gun-emoji-most-commonly-shoot-at/
Wikipedia: Yawuru language
https://en.wikipedia.org/wiki/Yawuru_language
Check This Out!–Yawuru Ngan-Ga Language App For iPhone & Android – Yawuru
https://indigenous.sl.nsw.gov.au/recent-updates/check-out-yawuru-ngan-ga-language-app-iphone-android-yawuru
Yawuru ngan-ga language app
https://vimeo.com/123160863
Yawuru Ngan-ga: A phrasebook of the Yawuru Language
https://www.magabala.com/yawurungan-ga.html
Komei Hokosawa: "My face am burning!": quasi-passive, body parts, and related issues in Yawuru grammar and cultural concepts
Google Books link
Ethnologue: Yawuru
https://www.ethnologue.com/language/ywr
Slides for the language lesson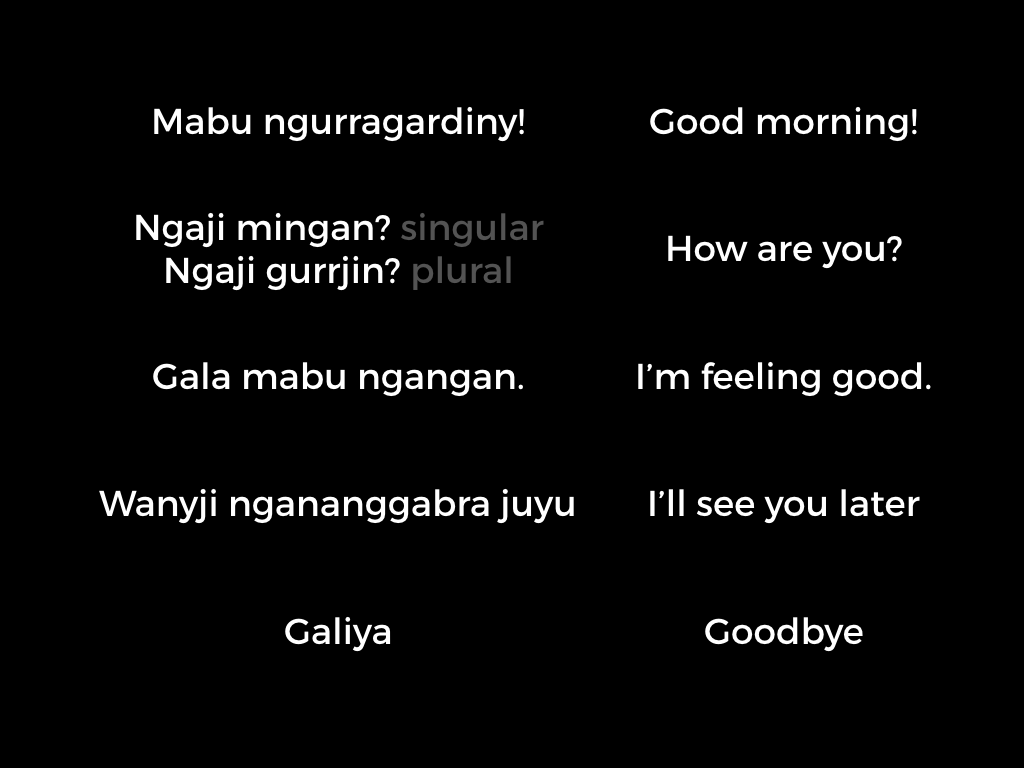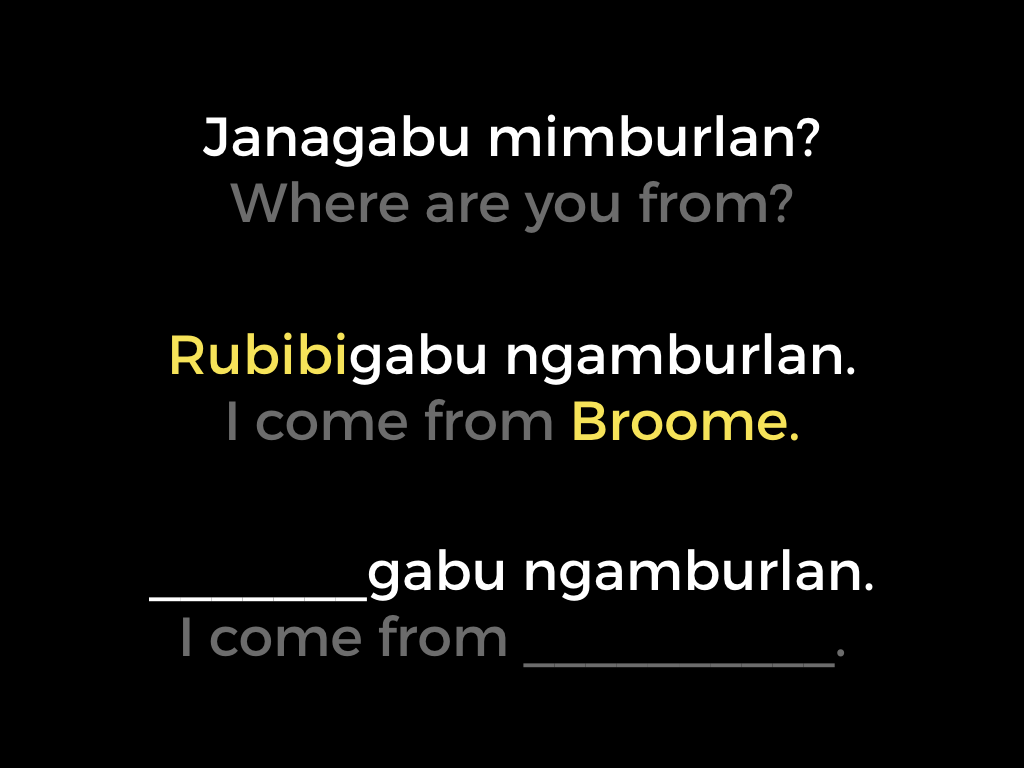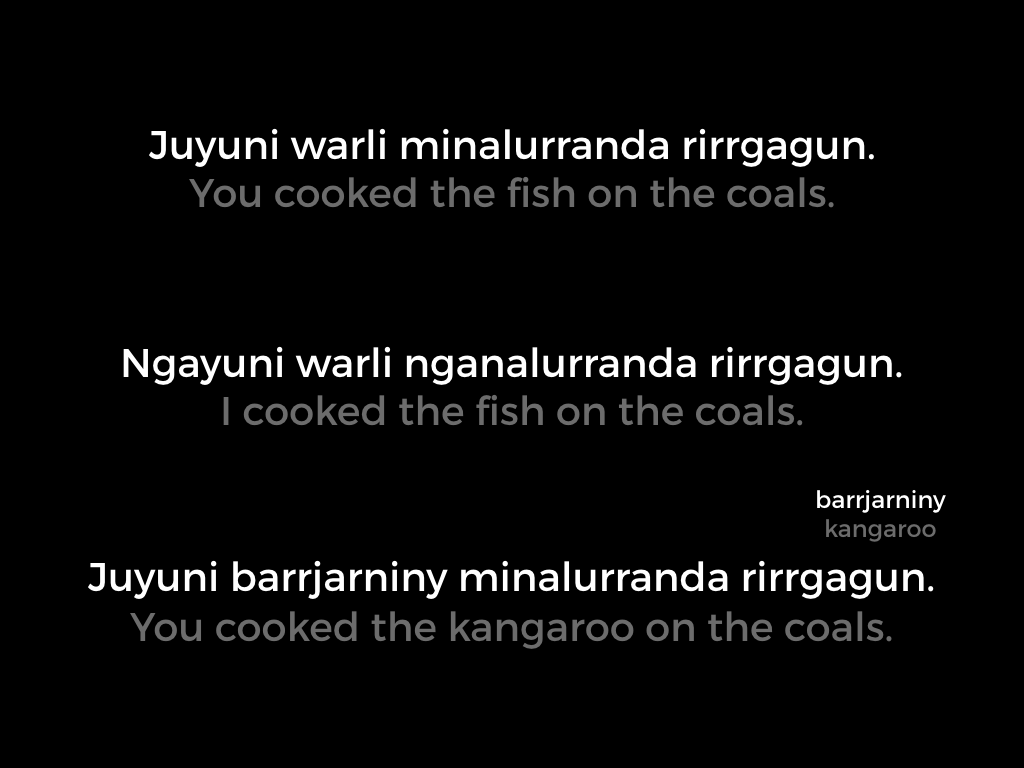 ---
Show tunes
Find the tracks we play on the RTRFM webpage for this episode.
Image credit: http://www.abc.net.au/news/image/7392082-3×2-700×467.jpg